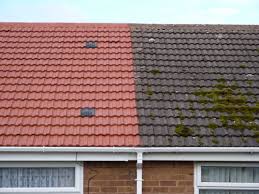 When your roof starts to show signs of wear and tear or potential failure, most people think it's time to replace the roof. If you are considering a roof replacement we encourage you to consider restoration and roof coatings.   Why spend tens of thousands on a replacement, when a roof coating system can restore your current roof to a like-new condition?
There are a number of cost-effective solutions for restoring older but still viable roofs. High-tech restoration coatings that are on the market today can add 10 to 15 years of life to an existing roof. And, the average cost for restoring a roof is $3-5 per sq. ft., compared to $7-$12 per sq. ft. for a total replacement. This figure can be significantly higher if continued neglect damages the underlying deck.
Roof Restoration offers a host of benefits that add up to savings when compared to a full roof replacement:
Restoration can extend the life of your roof up to 15 years
If you are restoring the roof on your business, the restoration may be fully tax deductible under your operating expenses as compared to the minimal deduction you will see with a full replacement.
Depending on the location of your business or home, tax credits and other financial incentives through ENERGY STAR, LEED, etc., may be available when restoring your roof to improve energy efficiency.
Restoration eliminates the need for disposal to a landfill, thereby reducing adverse environmental impact.
Restoring a roof on a commercial building allows the building owner to expense the cost immediately, as opposed to reroofing, which must be depreciated over the anticipated life of the roofing system.
A roof restoration may upgrade your roof to a Class A fire rating which promotes safety and reduces insurance costs.
Best of all, roof restoration is faster, cleaner and much less labor intensive than a full roof replacement. This makes the process less disruptive to your family or employees.
So, is your roof ready for restoration?
Before a roof restoration project can be initiated, the roof's viability must be analyzed. A thorough roof inspection should be performed no more than six months before the project to determine the following:
The pattern of any roof leaks
The condition of the insulation and underlying deck
The location of any water penetration
A certified roofing contractor can recommend the type of restoration that is appropriate to the specific conditions of your roof, ensuring that your restoration will meet or exceed all specified performance requirements. Now that you have discovered some of the benefits of roof restoration, it's time to contact Premo Roofing to discuss how we can provide the service at a price you can afford. RESTORATION OR REPLACEMENT – We can provide you with the information you need to make the right decision.