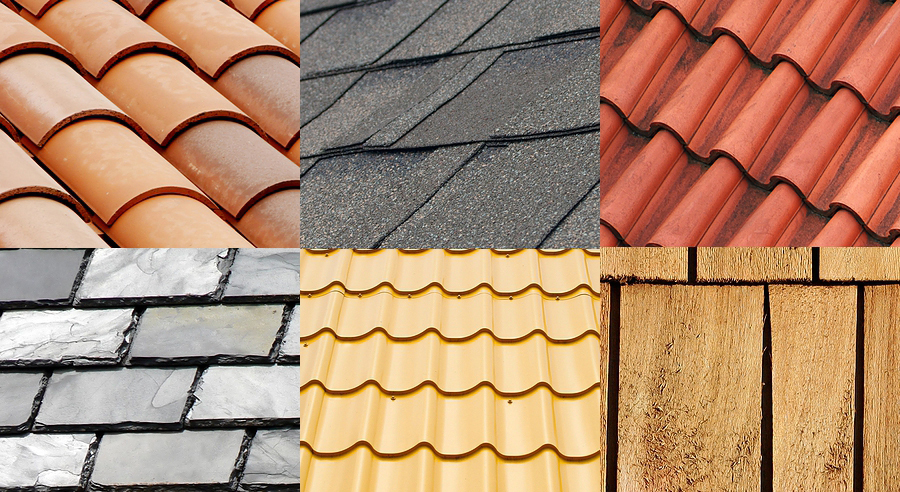 Updating your existing roof allows you to add value to your home and communicate your home's look and feel. While roof framing, preparation and proper installation are always important, the material you choose for your roof can bring the exterior of your home to the next level.
Asphalt Shingles
The roofing material we all see the most of these days—the one that covers the roofs of a great majority of houses across America—is the standard three-tab asphalt shingle. Asphalt shingles is by far one of the most popular choices because they are economical and easy to install. While not as durable and long lasting as some of the other roofing materials such as metal, slate, or clay tile, asphalt shingles can provide a satisfactory protection and sufficient aesthetic appeal at only a fraction of the cost.
Clay and Concrete Tiles
Clay and concrete tiles add texture and elegance to a roof. Genuine flat, ribbed or scalloped, clay tiles are extremely durable but also very heavy, and must be installed by a professional. Concrete tiles are versatile and are less expensive than genuine clay, but also have a heavy weight.
Pros: Clay and concrete tiles are long lasting, non-combustible, and energy efficient. But can be expensive because they require additional framing.
Metal Roof
Becoming an increasingly popular alternative to shingles, metal roofing can be found using copper, steel, and aluminum. While the upfront costs tend to be higher, the long-term advantages of a metal roof are beyond comparison of that to a shingle roof.
Metal roofing is becoming popular because homeowners are tired of replacing a roof every 10-12 years due to poor installation or faulty shingles. Metal roofs are sleek, lightweight, long lasting and recyclable
Slate Roof
Although not ideal for everyone, slate roofs have longevity and environmentally friendly. It is one of the longest lasting roofs on the market. The big reason why a slate roof is one of the most popular roofs is the beauty of it. Consider these popular roofs when building a new home or replacing your old roof.
Wood Shingles and Shake
The go-to roofing choice for hundreds of years is wood shingles and shake. Many homeowners love the look of wood shingles and shakes and how they weather to an attractive shade of gray. Wood shingles offer a rustic look and are a natural product usually made from cedar, redwood and pine.
If you live in a fire-prone area, look for Class A fire-rated wood roofing products that include shingles treated with a fire-resistant coating.
At Premo Roofing we will go over the best roofing material for your home, business and your budget. When choosing the right roofing materials, ask yourself the following questions.
What is the weight of the material and will it require special framing or reinforcement?
Is the roofing material available in a variety of colors and styles that complement my home?
Does the roofing material meet the fire codes in my area?
Are there special installation and maintenance requirements to consider?
Does this material offer good performance in extreme weather conditions that are common in my area?
Consider the cost, the life span and warranty for this product…
Premo Roofing will go over the answers to these questions, which will help you determine the best roofing material for your home or business. Give us a call at (831) 443-3605) for any roof samples you would like to see to help make your decision or schedule a free consultation.