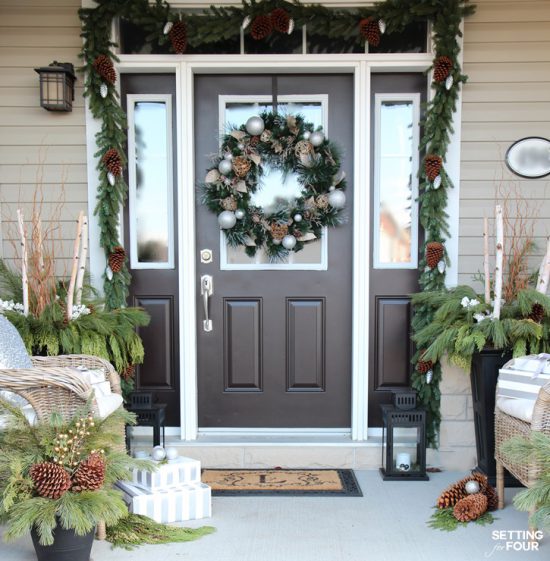 Christmas Holiday Ideas
Everyone wants their house looking great for the holiday season, but you don't have the means or the inclination to climb up on the roof to put up your holiday decorations. We at Premo Roofing have some great Christmas holiday decoration ideas that are sure to turn heads on your block. These simple Christmas decorations don't require a roof, and they look incredible!
Christmas Wreaths and Garlands
Christmas wreaths and garlands are really easy to work with, and go beautifully with many other Christmas holiday decoration ideas. There is a huge variety of wreaths to choose from and you can find simple pine wreaths, wreaths with ornaments and lights, and decorative wreaths with ribbons and all sorts of other ornamental elements.
Wreaths can be put on doors, walls, and windows, and can be propped up against other decorative pieces. Garland can also be a substitute for roof decorations. Garland can be threaded through porch railings and banisters, pinned on walls, coiled on lamps and other posts, laid on top of shrubbery, and much more.
X-Mas Ribbons
Ribbons are very flexible and can be incorporated into all sorts of Christmas holiday ideas. Whether you want to thread a beautiful red ribbon through all of your simple Christmas decorations, or place a neat bow on your porch or mailbox, a ribbon makes for an easy and affordable addition to your holiday decorating.
Shrub and Tree Lighting
Our list of Christmas holiday decorating ideas wouldn't be complete without comments on lighting. Well-placed lights provide warmth to any holiday scene. There is no need to scale your roof or climb a ladder to take advantage of festive Christmas lights. Lights can be strung up anywhere on your porch and lawn, and even low-lying objects like shrubbery and small trees.
Repurposed Decorations
Are you a DIY decorator? The DIY school of Christmas holiday ideas opens up a whole new frontier for the crafty decorator. Pine trees, pine branches, pinecones, and poinsettias are classic holiday decorating plants, and they can be used to form an array of decorative settings. If you are in the countryside, hay bales have quickly become a popular decorating prop as well.
Do you have old jars, lanterns, or glass bottles lying around? Fill these with Christmas lights and place them all over the porch and front walk. Fill up some baskets, buckets, or window boxes with decorative plants and ornaments and your holiday scene will be complete. For creative DIY artists, simple Christmas decorations can be put together with minimal expense, and there is no need to get on a ladder.
Inflatables and Lawn Ornaments
Spend some time walking around the neighborhood and you'll quickly find out that lawn ornaments and inflatables top the list of Christmas holiday ideas for many homes. Inflatable snowmen, snow globes, Santa's, and a variety of other instantly recognizable Christmas icons are widely available and easy to set up. Nativity scenes, deer, sleds, and a number of other objects are also easy to find and come in various types of materials. Combine these inflatables and lawn ornaments with holiday lights for a festive front yard scene.
Enjoy the Holidays
We hope this list of Christmas holiday ideas will get the wheels turning for your yearly decorating efforts. It only takes a couple of simple Christmas decorations to really bring your home to life, and you don't even have to get up on the roof. Remember, with the holidays comes holiday weather, and it is a good idea to make sure your home is winter-ready. Getting on top of roof damageis key to preventing far more extensive damage that could cost more in the future. If you currently lack the means of getting to the roof or attic, or you don't want to climb up a ladder, we recommend contacting an expert for inspection and necessary repairs.
Premo Roofing Company is your go-to expert for roof inspections and maintenance. We serve the entire Central Coastarea. Call us today at 831-443-3605or contact us online.