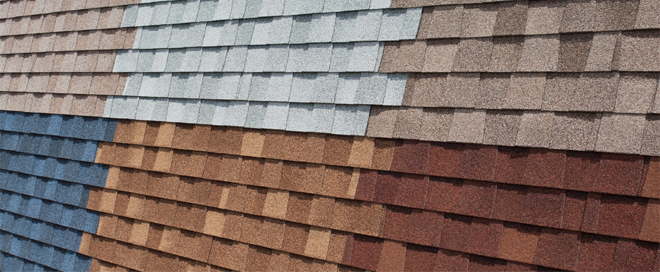 When completing a roofing project one of the things to consider is what type of shingle you want to use.  While all shingles function the same, there are some unique differences depending on the type of shingle that you choose for your project.  It is important to consider the pros and cons of several different types of shingles, and most importantly, consulting with a local roofing contractor to determine which roofing system will work best on your home is always important.  At Premo Roofing Company in Salinas we want to make sure you have all the information you need to choose the right roof for your home.
Asphalt Shingles.  Asphalt shingles are one of the most widely used roofing materials on the market.  Asphalt shingles have advanced since it was created to manydifferent types, styles, shapes, colors and sizes.  Asphalt roofing shingles are highly used on residential homes based on their relative cheap cost compared to tile, metal, and wood shake.  Although they cost less their life expectancy ranges from 20 – 50 years which most homeowners find positive when compared to the cost savings in the material itself.  Best of all, asphalt shingles are made in many different colors and designs.  Some are designed to replicate the look of wood shake, tile and other more expensive materials.
Wood Shingles.  More expensive than asphalt, wood shingles are known to be more aesthetically appealing because of their natural appearance.
ith some TLC wood shingle roofs can actually outlast cheaper roof types.  A good wood roof that is not exposed to the harsh weather conditions should last up to 30 years.  Wood shingles are very unique in their appearance and because of that it is one of its most desired benefits.  Wood shingles are organic and eco friendly and are much more energy efficient than asphalt shingles.
Slate Shingles.  This type of shingle is extremely durable, with a life span of 50 years or more.  Slate is unique in appearance, does an amazing job at resisting water absorption and is strong and isn't easy to damage in heavy weather.  One downfall with slate is they are quite heavy, and therefore the structure of your home must be taken into consideration before you choose a slate roof.
Metal Roofs.  This type of application is appropriate for homes with especially low slope rooflines.  Low-end galvanized metal roofs are relatively inexpensive, but can last up to 50 years.  Despite their growing popularity, you have to take into consideration their stylistic uniqueness.  This can make getting the roof of your choice more difficult.
Fiberglass Shingles.  In the past the mat of the shingles was made from a wood and paper felt material.  Today a more advanced mat is created from fiberglass.  One of the main benefits of a fiberglass shingle roof is that it is more fire resistant.  A fiberglass shingle usually carries a class A fire rating.  Compared to the wood and paper mats used for asphalt shingles, the fiberglass shingles are much better for your home.
Roof shingles can be very complicated and the roofing specialists at Premo Roofing Company can help you decide upon which shingles would be best for your project.  Contact us today and we can get you on your way to a beautiful new roof!