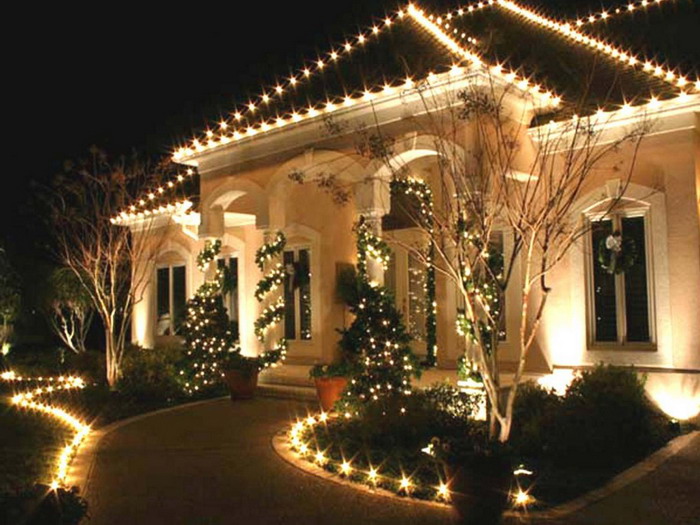 If you are planning on adorning your home with festive lights and decorations we have some tips to help you avoid causing damage to your roof.
Never hang Christmas decorations from your shingles:  The best way to hang your lights is to use clips that hang from the gutter or eaves. Making what you think may be tiny holes in a shingle or any part of your roofing system will let moisture in and potentially rot the roof. If you have inflatables or other structural decorations on your roof be sure they are secured in a way that does not penetrate your roof and will prevent them from coming loose during a storm.
Don't rip them down:  Don't hastily dissemble your decorations by pulling lights off the roof from the cords.   This can severely damage the gutters or potentially your shingles if you didn't clip them correctly. Take the time to remove them one-by-one because it's cheaper than replacing your gutters or shingles.
Don't forget to test: Don't forget to test each strand of lights to verify that they are in good working order before hanging them. Any strand of lights that aren't working properly should not be used, as an electrical short could be a fire hazard. Also, make sure the decorations are plugged into a portable outdoor circuit. If you overload the breaker, this could be a potential fire risk.
Take the time to examine your home's exterior: While you are working your way around your house hanging the lights and other holiday decorations, it a perfect time to take a few minutes to inspect your roof, gutters, and siding. Spotting any damage now will save you from dealing with a bigger problem at a later time.
Bring a helper: Always have another person on hand to secure the ladder, carry the decorations or help in case of an emergency.
Call a professional: If you have elaborate decorations, are not comfortable or stable on a ladder or have difficult areas that are hard to access, it's recommended you hire a professional to install the decorations without risking damage to your roof or to yourself.
Happy Holidays from Premo Roofing Company and remember to be safe and protect your biggest investment.