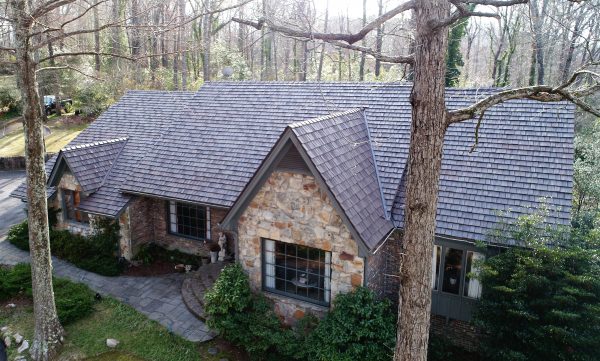 We get it, natural materials have their appeal. There's something very traditional about building your home the way people have for decades, using all-natural sourced materials. Unfortunately, most people don't realize the many headaches that can come of this choice, especially when it comes to your roof.
A roof is the final touch on your home, the part responsible for protecting your investment and also for aligning on all of its stylistic values. A bad roof can mean years of headaches and a concerned owner every time the weather turns bad. A good roof means security, and happiness in a sound investment.
For this reason, more and more people are choosing composite roof tiles for their homes. Just like those made at Brava Roof Tile, synthetic roofs offer a myriad of benefits for the educated home builder, and doesn't sacrifice on aesthetics or appearance (as some may assume). Here are just a few of the benefits you can expect when choosing composite roof tile for your home.
Beautiful & Fully Customizable
Composite roof tiles are every bit as authentic-looking as their natural alternatives, and often even more stunning. This includes synthetic cedar shake, slate and Spanish roof tile. Because builders have full control over the appearance of what they're buying (everything from style to color, to color blend) synthetic roofing often ends up looking better than plain old slate tile or shake shingle roof systems. It's not uncommon to hear composite roof owners speak of the many compliments they receive on their roof after choosing synthetic.
Eco Friendly
How is my roof impacting the environment? This may not be your top concern as a builder, but the environmental impact of choosing clay or stone materials isn't insignificant. Quarries are often stripped bare, and the carbon footprint of such materials adds up quickly. By choosing synthetic roofing you're making the eco-friendly choice. Made from recycled materials, this roofing has the same appearance but is much more efficient when it comes to the utilization of resources.
No Unexpected Costs
Damaged shipments, delays, and more—choosing natural slate tiles and shake roof tiles is an expensive and risky undertaking. Materials often get broken during shipment, and even the best builder can underestimate the toll a material's weight may take on a home's structure. Often times extra reinforcements may be required to support the added weight, and delays to building plans can follow.
Stronger Material
Another unexpected perk of choosing composite is the durability of the product you're buying into. While no one would blame you for assuming natural materials to have more durability, with the latest technology available this simply isn't the case. Synthetic roofing is more durable to wind, rain, and fire damage and often has higher ratings in all categories than alternatives. Backed by a 50-year warranty, each year sees more builders & roofing contractors placing their trust in this product knowing that customers will be happy to have their homes built on-budget, looking great and lasting a lifetime.