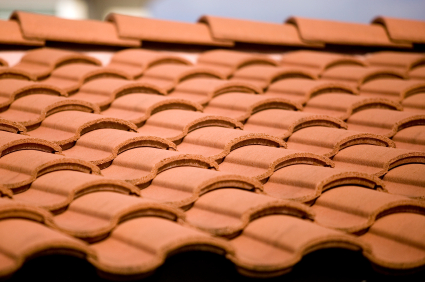 Are you considering a new roof for your home? If so, you may be looking for a roof with some flair and uniqueness. Today, most people are using asphalt or metal roofing, but there is a lot to be offered from the older forms of roofing like clay tile roofing. If you are considering a clay roof, you might want to consider these points before making your decision.
Tile is among the most durable and environmentally sustainable roofing choices.
They offer outstanding durability of 40-50 years. Because the clay is baked in kilns at extremely high temperature, the tiles will retain their strength and color for many years.   Homeowners prefer tile roofs for the reasons listed above but the real attraction is the eye appeal that tile offers. A home with a clay tile roof can quickly improve the curb appeal. Because Clay tile roofing is made of a renewable resource it is also a very eco-friendly choice.
Is there a downside to Clay tiles? Because clay tiles are heavy they can require superior support beneath to ensure the roof can hold the added weight. Another potential disadvantage is the price. Asphalt or wood shingles can be installed at a fraction of the cost. But, with the right roofing contractor, the cost is entirely worthwhile because clay is study, hardy and absolutely stunning when completed. If clay tile roofing is out of your price range, consider using concrete tile, which doesn't last as long but shares many of the same advantages.
There are many advantages of a clay tile roof from Premo Roofing Company:
Traditional look and style
Variety of colors and patterns
Exceptional weather resistance
Superior durability and long life
Low maintenance
Easy to replace broken or worn individual tiles
Fireproof with a Class-A rating
Excellent insulating properties for energy savings
The smooth surface is non-porous and self-cleaning because it is resistant to moss growth and is resistant to the sun's UV rays.
To learn more about whether clay tiles are right for your home, contact Premo Roofing Company