Blasting the Roofing Myths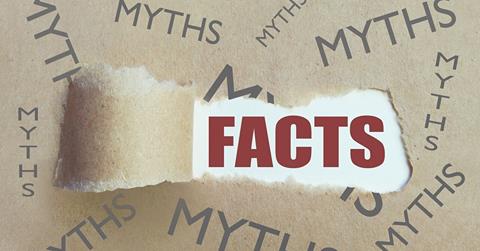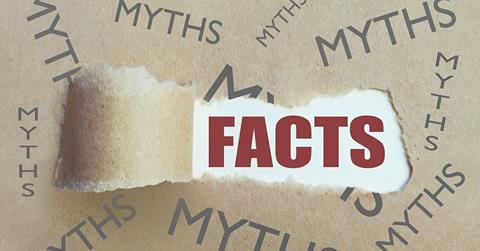 It's a fact. There are a lot of reputable roofing companies. But sadly, there are also quite a few who are less than honest when it comes to the facts they're touting to their customers. You may not be getting the whole story about roof repair, roof replacement, or the other elements that contribute to the health of your roofing system. We are going to dispel some myths we've heard about the care and maintenance of your roof.
All Shingles are the Same
MYTH. If this were true, there would be only one type of shingle. Even individual manufacturers make different shingles with varying features. In general, there are two types of asphalt shingles; 3-tab and architectural. Three-tab shingles are lower in cost, last a shorter amount of time and are one-dimensional. Architectural shingles give your roof the appearance of wood shake or slate. Some shingles have wind warranties, some are impact resistant, others are certified as Cool Roofs by ENERGY STAR®. So clearly, All shingles are not the same.
Putting a Second Layer of Shingles on Your Home is Better
MYTH. Although a roofing overlay, the term for installing a new roof over your old one, is legal, it's not better. In fact, in many cases the new roof won't last as long as it could because it will be directly impacted by the old roof and the issues it had. Ideally installing a new roofing system is your best bet for a sound roof. If your roofing company strips your roof down to the roof deck, inspects it, installs new underlayment, flashing, and shingles, your roof will last longer and will better protect your home.
Annual Roofing Inspections are a Waste
MYTH. Many reputable roofing companies provide annual roofing inspections and charge for them. It's well worth your investment to pay for an annual roofing inspection because your roofer can perform proactive maintenance. Small issues like loose flashing or a mis-aligned shingle can be corrected before they become a big problem and cause water damage in your attic or home.
If you have a roofing company you know and trust, schedule regular inspections and perform roof repair as soon as it becomes necessary. If you don't have a roofer you trust, call Premo Roofing Contractors. We'll perform a no obligation inspection of your roof and come up with a plan for repair. Let us be your partner on all your roofing, siding, and window needs. Call 831-443-3605 or fill out our contact form today.
FACT. A properly installed roof will bring you and your home many years of protection. And, maintaining that roof with occasional service from a reputable Central Coast roofing company has proven itself to be a great investment.
---
BENEFITS OF ROOF COATINGS
I think everyone is well aware that your house needs a sturdy, well-installed roof to ensure years of trouble-free coverage for your home. But I bet you didn't know that applying a roof coating could increase the lifespan of your roof, whether it is a new roof or over 10 years years of age. A roof coating is one of the best things you can do to improve your roof, protect it from weather and reduce energy costs.
Your roof is exposed to heat, ultraviolet rays, rain, and wind over the years and the roofing system materials begin to break down. This chemical deterioration begins to affect your roof's appearance and function. A roof coating will add strength and endurance to your roof while maintaining the beautiful appearance of your home or office.
Your roof is the most important part of your home or business and without proper installation and maintenance, your roof is susceptible to water damage and adverse effects from mold and mildew that result from leaks.
---
Don't Live a Roofing Nightmare! Maintain Your Roof!
There are two kinds of homeowners – those who do all of the preventative maintenance necessary to help save money and time and those who wait until a problem develops to actually deal with it. When it comes to your home's roof, which type of homeowner should you be? The answer should be pretty simple – go for the preventative maintenance.
Why Should You Bother?
Do you wonder why you should take the time every month maintain your roof? Those little tasks make a big difference in several areas.
Routine Maintenance will extend the life of your investment and lower the life cycle cost of your roof.
Failure to maintain the roof may result in early deterioration of the roofing system.
Repairs for deterioration from lack of proper maintenance are very costly and puts interior valuables at risk.
Untreated deterioration can result in guarantee cancellation.
Better maintenance means catching a problem early, and that often means the difference between a brand new roof and a simple repair.
Finally, the more you maintain your roof, the better your property value. If you're going to sell your house, you want it to look amazing, and a few maintenance tasks now and then can do just that.
 What Should I Do?
Keep a file of all records relating to this roof including…
Guarantee
Inspection Reports
Repairs and Maintenance Bills
Original specifications and invoices
Conduct Routine Inspection
 At least twice per year, typically in the Spring and Fall.
Clean Your Gutters Regularly
 Clogged gutters may mean water is forced back under your shingles, and that can lead to real damage quickly.
Trim Overhanging tree Branches
 They cannot only scratch the surface of the shingles, but they could also fall and damage the roof.
Inspect After Severe Weather
 Always inspect the roof for damage after severe weather such as hailstorms, heavy rains, high winds, etc.
Repair Correctly
All roofing repairs must be performed by a reputable roofing contractor.
Make repairs following current repair guidelines for the type and quality of the roof installed.
Address non-roof related leak areas.
Keep Roof Clean and Debri Free
Always remove debris from roof… such as leaves, branches, dirt, rocks, bottles, etc. and debris and trash from other trades, etc.
Keep gutters, downspouts, drains, scuppers, and the surrounding roof areas clean to ensure proper drainage.
Install Gutter Filter (to eliminate water back-ups)
Regularly examine your roof for algae growth, deteriorated flashings, and damaged shingles.
To learn more about what you can do to protect your roof, contact Premo Roofing for a FREE Consultation and Estimate.
---